How to manually render/display fields inside templates ... and Upgrading custom Templates to work in v1.5.6+
Due to performance reason, fields are not longer created in v1.5.6 / v2.0, unless they are in a template position.

To have control over the creation of fields, we have a new GLOBAL parameter "Always create field html" (under "Performance Options").

By default this new parameter is set to create all Fields in ITEM View (but not for category view).

This parameter can be changed to "Always" but we do not recommend this, instead we have 2 alternatives to make templates compatible:

ALTERNATIVE 1
1. edit the your item.xml AND category.xml files of your template and ADD a position "called" 'renderonly' like in picture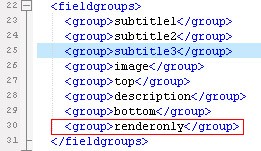 2. Clear Joomla cache
3. Go to the category layout and add the fields that you use manually in this new position, same applies for item layout if you set the new GLOBAL parameter to never create fields unless in a template position.

ALTERNATIVE 2
add one line of code inside your custom template to create the fields like this:
item view
FlexicontentFields::getFieldDisplay($this->item, 'fieldname'); // fieldname e.g created, tags, ... etc
category view
FlexicontentFields::getFieldDisplay($this->items[$i], 'fieldname'); // fieldname e.g created, tags, ... etc
or depending on template (e.g. inside a loop )
FlexicontentFields::getFieldDisplay($item, 'fieldname'); // fieldname e.g created, tags, ... etc