Now we have to link your Joomla content to FLEXIcontent (Article is a basic type for compatibility), that is to say FLEXIcontent will take precedence over the com_content Joomla, you can add fields to the basic article, manage the default template etc. ....

To do this you click on 'items' from the dashboard

This page is obtained below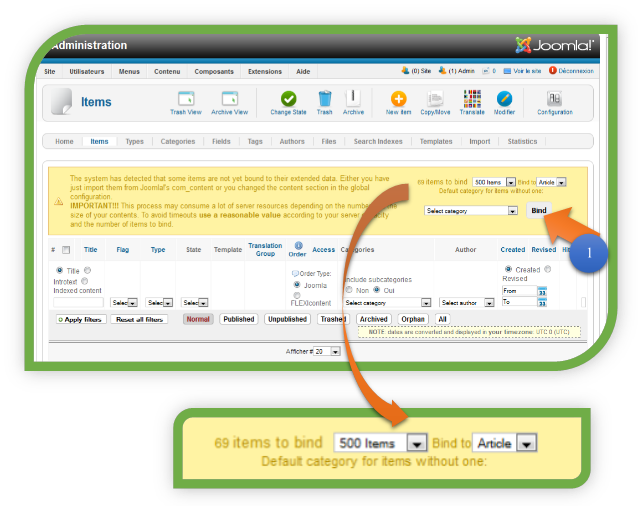 1 click on BIND to start the operation.

The yellow message indicates to link articles to existing joomla base type FLEXIcontent (in this case the item type) for that FLEXIcontent can then manage. If your site has a large number of articles, the connection can't be made at once. Your server could not keep up. You'll make connections by "package joomla articles." Here it is proposed that 500, which is an optimized amount for this action.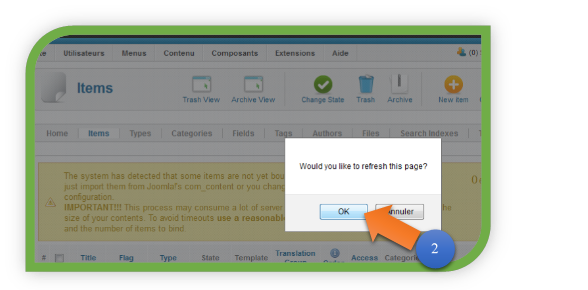 2 Then click on "OK" to refresh the page.

That's all your content site is now managed by FLEXIcontent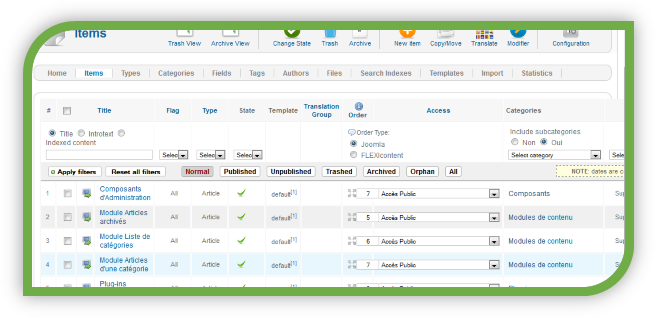 For categories, FLEXIcontent manages categories Joomla natively, there is nothing to do. Only difference with Joomla 2.5, FLEXIcontent manages multi-category, that is to say an item can be in multiple categories at the same time without having to make copies.
Tutoriel offert par http://www.com3elles.com, plus de tutos sur notre site