Discover the next CCK level for Joomla with FLEXIcontent!
A complete content management solution
Flexicontent uses native Joomla! com_content, com_category, com_tag!
Unlimited contents types
Create your content types, blogs, ads, events, galleries... No limitation! Each type can be used in every category and create great apps with specific ACL rules.
32 multi-behavioural fields
Assign powerful fields to your content types.
Single text field to meet any type of single input (number, custom validation, ect, plus custom coded values).
6 selection-type fields with SQL support and state support per value, cascadable even inside multi-value fieldgroup.
Super powerful relation / relation reverse field, and address (Google maps field)
Many more, all with support for ACL, versioning

All multi-item views (category, multi-category, tagged, favoured, authored) support faceted search & filtering
All fields can be filterable and text searchable. Create a powerfull advanced search and filtering system.
Display in multi-item views, module, advanced search view, with any filtering display type regardless of field type: selection (range), *date (range), *date aggregated display, slider (range), radio / checkbox(*image), requiring single or all filtering values
7 powerful modules
Flexicontent comes with 7 powerful modules.
Universal content module, with advanced filtering capabilities and powerful layouts
Plus Fitering module, Google maps module, Tags cloud module, Categories-tree module, Search module, Downloads cart module
Powerful workflow
With more 40 ACL rules, you can create a complex workflow with front-end moderation. Email notifications for each step is included. Powerfull versioning and compare system (backend) to approve new document versions
Support of large websites with performance that scales
Flexicontent is multiple times faster than Joomla! with native fields when you have large websites with custom fields or even when using category views with many items in small websites
You want more CCK features ?
Multi-category content
You need to display content in several places? No problem Flexicontent allows multi-category assignment and adds cannoncal tag to avoid duplicate content!
Multi-value field
All fields can be multi-value. Integrator can allow suer to add X value for field. Like a gallerie you can set max and min value ... All value can be ordered by simple drag drop. Flexible and easy to use !
Templating system
Flexicontent have a powerfull and understadble template system (php, css). You can use view for category and item ! Add field in display just by drag and drop in desired position !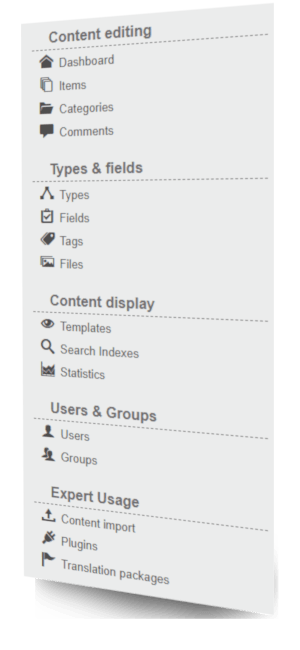 Power full modules
FLEXIcontent offers 6 modules for free.
Universal content list any content and display using 5 layouts
Search module
Googlemap module with with aggregated display
Filtering module
Tags cloud
Category module
You can build what you want without limitation!
Extended your field
All field had powerfull option like, prefix and suffix system. You can mix it with all Joomla plugins! You can template output for each field!
Import Export system
With FLEXIcontent you can import content with a build-in system! And you can export content in backend AND front-end.
Less is more isn't good for Flexicontent. You can do all what you want in one component!
Features list
FLEXIcontent works with PHP5 but we recommand to use PHP7 (fully compatible).
Create a custom apps for your end user
Nested categories (unlimited depth)

Multi-mapping

Backend boleean search engine with fulltext indexing
Usage of Joomla content and category tables for content backwards and forwards compatibility (this means it extends the com_content instead of replacing it)
Trigger All Joomla! content plugins

Allow usage of all com_content designed modules

Simple workflow with 5 hard coded states
Integrated aggregation system (tags)
File manager for secure downloads and media files
Native import and export tools (CSV)
Make better for search engine
Automated or manual pathway setting
Complete Microdata integration for type, category, item and fields
Active itemid detection
Perfect urls with the native SEF from Joomla
sh404sef plugin natively integrated.

Advanced FALANG support, with native multilingual user interface

Native Joomla translation (3.X series)
Powerfull optimisation for bigger sites (more than 10000 items)
Template assitant in backend
JCE link plugin

natively integrated

Plugin for OSmap component included
Manage All your content
Ajax rating systems
Ajax commenting system
Favourites and update notifications
Powerful filter system for category views

Contents and Categories templates

Frontend submit/edit capability for many ACL rules

Dashboard for user
Responsive template
Powerfull tag system
Carroussel module
Google maps module
Filtering and search module
Tag cloud module
Category module
Perfect for Integrator and webdesigner
More than 10 fields for string value type (select, radio checkbox text area etc ...) with powerfull configuration options
5 fields for specific content (email date phone etc)
5 multimedia fields (File, Image/gallery, Audio/video, Google maps etc) with rezize option, automatic embed...
4 fields for form display (group field, tabs etc)
More than 5 filds for display management (social share, load module, item navigation author list.. etc)
A power full field to create relation beteween items
Unlimited content types with associated fields
Unlimited number of fields/elements

Fields can be common to multiple types

Fields can be loaded by groups or individually
Fields can store multiple values
Values drag and drop ordering

Each field/element is a standard Joomla plugin

and developpers can easily create their own fields using our API
Dynamically generated fields (with SQL queries)

Universal Plugin support

(more information)
SPECIFIC FOR OUR CUSTOMERS
Specific granular ACL management (front and backend).
Hierarchical inheritance (category → subcategory → … → content)
Unlimited groups
Nested groups
Some Examples of Flexipower
Intranet without Joomla Administration access
Doing more with futur APPS system
Coming soon...
FLEXIcontent PRO
Specific features added by pro version
Advanced Reviews
Need to extend vote system. We have done an extended review system :
More powerfull AJAX voting
Reviewer notification
Specific template
Downloads cart module
Perfect module to check many downloads at once
Premium ticket system
We try to provide the best support as we can for free! But if you need more:
Live site intervention
Lite dev coding
Premium reply
It a good way to help FLEXIcontent developement
End-less scrolling template
A new template without pagination! Just scroll and discover new contents:
Ajax loading
Animation display
Compatible with Facet filtering
Optimized for large sites
Advanced Template
We planned to add new pro template:
New "new template" with complete option display
And more...
More advanced plugin
More advanced plugin to extend FLEXIcontent (Yes its possible!):
Calculation plugin: allows to do operations between fields.
Pro field: display field value in all Joomla! part
Automatic relation field: Allows to create an automatic relation between items in regards of field value
And more...
Be first to discover flexicontent pro
FLEXIcontent core
Life time update
Forum support
FLEXIcontent core (life time update)
1 website configuration support for the PRO features
Premium ticket system
All pro plugins (6 month update)
All pro modules (6 month update)
All pro template (6 month update)
Review app (6 month update)
FLEXIcontent core (life time update)
2 website configuration support for the PRO features
Premium ticket system
All pro plugins (1 year update)
All pro modules (1 year update)
All pro template (1 year update)
Review app (1 year update)
Specific plugins
Templates
New features
Testimonial
The team is very supportive and patient with queries. They are also very prompt in the responses and creative. Very good product. :) Keep it up Flexi Team :)
I follow this extension for a long time now and I can give it 5 stars
first of all, you need to found a clear project to use the beat
show articles multigatorised, multitags to give to the reader
...
I've barely begun to scratch the surface of this feature-packed CCK component. I was intimidated at first, but I found it very intuitive and relatively easy to use. It is so flexible with so many options, I'm surprised that it is free. The
...