Discover the power of flexicontent with Flexicontent demo site by Com3elles
Hello we are happy to announce a big project by micker, he propose a flexidemo site with a flexiontent demo site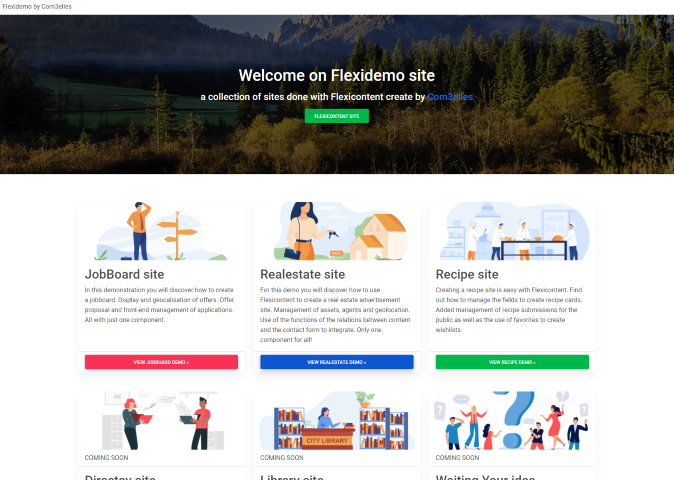 For each example, you can :
consult and navigate on a functional site
test the display with the default template (protostar) or a "home-made" template made with Template Creator CK (another of our favorites)
and to top it all off, download a FREE installable archive of each site to test on your own server.

This portal will be enriched as we go along and we hope for constructive feedback to make it evolve.
Through these first 3 demonstrations you will be able to discover 3 powerfull uses of this CCK totally free (even the support). This represents several months of work and we are very happy to share them with you:
1 - the CV library
This demo site presents a complete CV library with
management of offers,
specific application or free application
front-end management for the HR part.
2 - Real estate ads
This demo integrates the essentials of what you can expect from a real estate management site:
Addition of ads with simple entry
Various fields for complete files: photo gallery, 360° panorama, metrage, ...
Advanced search engine (geolocation, criteria, filters, ...)
Agent files linked to ads with direct contact of the agent via a dedicated form
All this directly created in flexicontent without any additional code or extension!
3 - Recipe site

This site presents recipe cards like you can see on sites like Marmiton... :
list of ingredients
information (difficulty, duration, ...)
photos and videos
instructions
bookmarks
search engine by recipe, ingredient, allergies, country, ...
reviews & comments
recipe suggestions
thematic articles, ...
More informations here
https://www.com3elles.com/discover-flexicontent-demo-site-best-cck-free-for-joomla.html
Published by
Yannick Berges
Created
06 July 2021