FLEXIcontent 1.5.3 stable released. Frontend editing inside!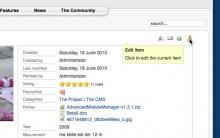 We finally did it!!! Here is the new version of FLEXIcontent with full frontend editing feature. Suriya (enjoyman) from Marvelic did a great job as usual and we are happy to offer this new feature which will the software reach a higher level. You have all been waiting this feature for a long time...
... now you've got it!
This feature will open new horizons in term of extensions and particularly a range of Jomsocial and CB plugins, which will allow your community members to manage their personal blogs for example. With FLEXIaccess you will also be able to create and manage an extranet, and many other things we didn't even think about.
A new minigallery plugin is also included in the package. It could be very useful for a portfolio or a product a catalog.
Some more extensions will be published beginning of next week: the famous multiuse content module, an article toolbar, a text resizer and another field which will allow you to load a module position or a single module instance inside a content.
By the way, FLEXIcontent won the special award of Best Innovation of the year at the J! and Beyond international developer conference in Germany. More information on that subject will be published soon.
The complete changelog is available on the product download page.
Some more read and videos about the product on Joomlablogger.net
Published by
Emmanuel Danan
Created
24 June 2010